Check out this latest video by Nori Yaro, where he returns to Mount Haruna (mount Akina in Initial D) with a panda white Toyota Sprinter Trueno AE86 and a white Mazda RX7 FC: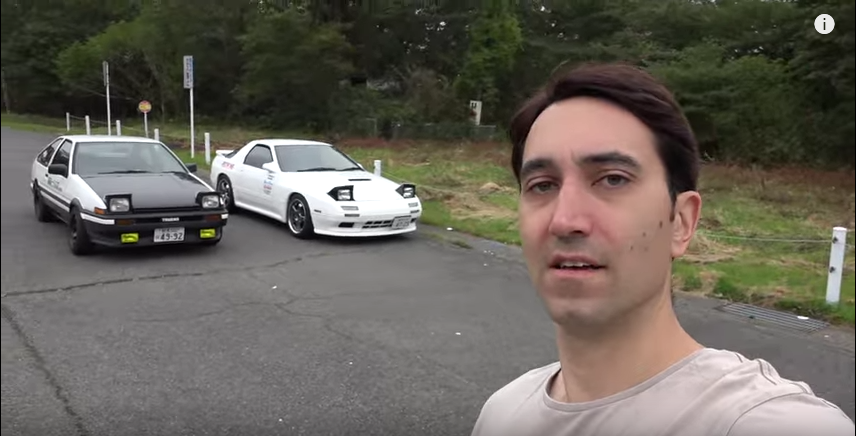 First he checks out the course up the mountain, the starting line and the rental swan-boats.
Then downhill again with a visit to D's Garage Racing Cafe, and a few more surprises:
Yes, D Garage definitely is the place to go if you are an Initial D fanboy. They have everything: ranging from Initial D cupcakes to Initial D burgers! Even a panda white zenki Toyota Sprinter Trueno AE86 and a yellow Mazda RX-7 FD are on display. As Alexi shows, if you are really nice (or well known) to the owner you may even borrow them.
After the visit to D's Garage they drive the Sprinter Trueno AE86 and RX-7 FD to visit the Fujiwara Tofu shop in the Ikaho Toy, Doll and Car museum in Ikaho. The shop front that was used on the live action movie, was actually applied to the tofu shop that inspired Shuichi Shigeno. It wasn't 100% the same, but for the movie they adjusted the front of the shop to resemble the one used in the Manga. The owner of the shop simply never took the prop down after the film crew left town. After the owner passed away a few years later and the shop got torn down, they moved the prop to this museum. Thanks to the good relatives of the tofu shop, it is here for display!
If you ever fancy visiting Mount Haruna, or any other Initial D sanctuary, this video is a very good starting point!
Direct link to video: Initial D for real! Driving Mt Haruna touge in the Tofu 86