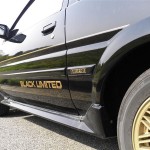 First of all: Happy New Year!
My personal New Years resolution is to post more frequent to the front page of AEU86. So today I'll kick off with a blog post about the Sprinter Trueno AE86 Black Limited model I wrote a year ago for my own blog.
---
It is time to dig a bit deeper into the AE86 again and this time I had a specific model in mind: the Toyota Sprinter Trueno AE86 Black Limited!
A total of 400 Black Limited AE86 were made in 1986 and all of them are Sprinter Truenos, so no Levins were available in the Black Limited edition! All Black Limited cars were graded as GT Apex.
This is the official brochure from 1986:

Fast forward 27 years and this is how some examples by Carland AE86 look today: Read More