02-02-2011, 09:23 PM
RobH69
Junior Member


Posts: 11
Joined: Apr 2009
Reputation: 0
Red over Black UK Ae86
I've been a member for a good while but never posted so It's about time I threw up a few pictures
I fully restored the car last year with nearly all parts either new or uprated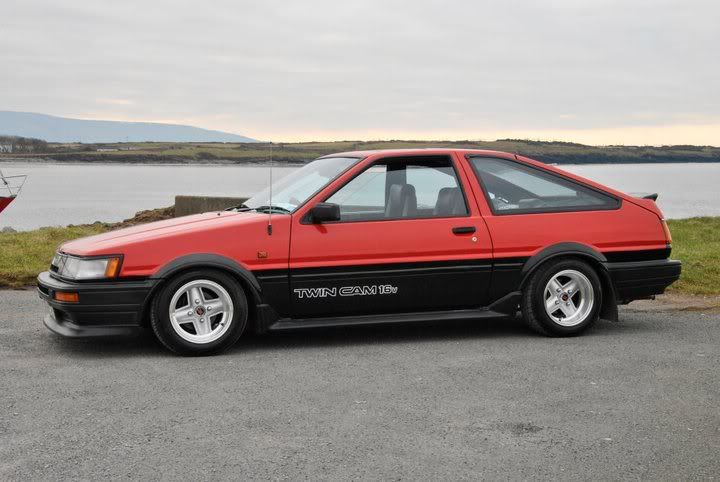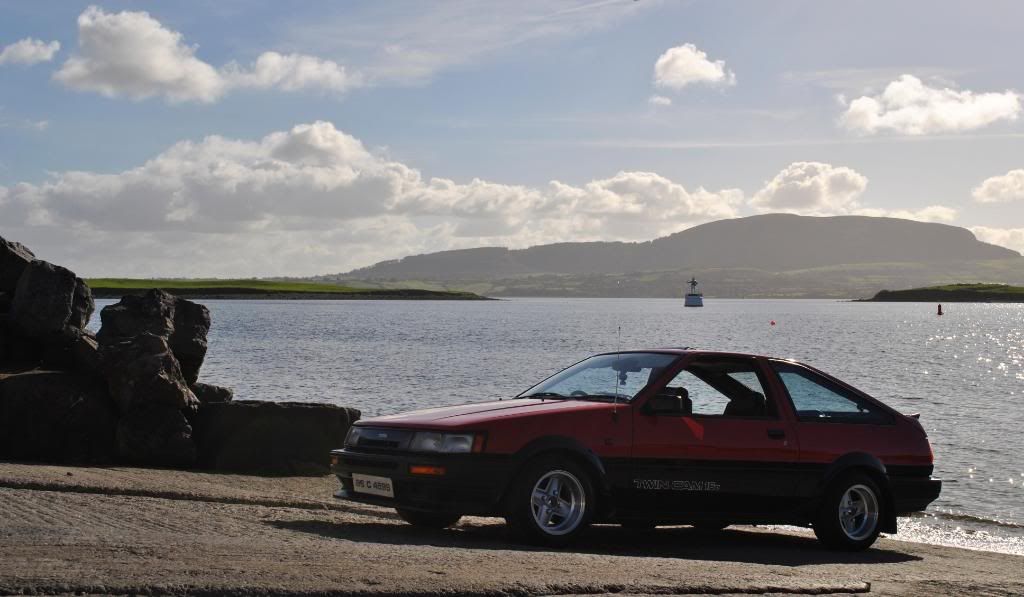 spec list:
revolite wheels with yokohama a539 tires
shortened front struts and trd green shocks all round with trd springs
whiteline adjustable panhard rod
traction brackets
new rear anti-roll bar drop links
all new prothane bushes
all new discs, pads, and rebuilt calipers
new braided brake lines
exedy clutch
new clutch master cylinder
new slave cylinder
t3 gearshifter rebuild kit fitted
trd gear knob
brand new stainless steel janspeed system and manifold
new sunvisors
new heater control panel
new front bumper brackets and bolts
new rear light and center piece
new rear bumper
new aerial
new windscreen mouldings
new quarter window mouldings
new sunroof panel seal
new windscreen
new glass grill
engine is a high torque bottom end with a t-vis head
acl bearings
trd headgasket
ported and polished
new water pump
new oil pump
all new gaskets
magnecor 8.5mm leads
apexi ground earth unit
standard airbox
t3 polished lightweight crank pulley
02-02-2011, 09:30 PM
dikolotour
Posting Freak


Posts: 1,307
Joined: Oct 2004
Reputation: 0
Red over Black UK Ae86
She is a beauty m8

---
Toyota Corolla KE30 + Toyota Corolla AE86
02-02-2011, 10:05 PM
banpei
Super Moderator


Posts: 11,323
Joined: Aug 2004
Reputation: 7
Red over Black UK Ae86
Damn nice!

---
1982 - TA60 Carina 4dr sedan - fun cruiser
1983 - AE86 Sprinter Trueno - import project
2013 - Honda Civic sport - daily driver
2004 - AEU86 dot ORG - daily domain

Support our forum, buy from the AEU86 shop:


02-03-2011, 07:59 AM
Hachi Go
Junior Member


Posts: 31
Joined: Oct 2010
Reputation: 0
Red over Black UK Ae86
Love it.

02-03-2011, 08:51 AM
grothae86
Member


Posts: 141
Joined: Sep 2006
Reputation: 0
Red over Black UK Ae86
fantastic - soo beutifull...
02-03-2011, 02:01 PM
Bean
AEU86 oldtimer


Posts: 2,550
Joined: Jul 2006
Reputation: 1
Red over Black UK Ae86
Very nice car, especially like the fact that you replaced the rear lights with the European version and not JDM...

---
AE86 ex-daily
User(s) browsing this thread: 1 Guest(s)