Newera Import's 200 bhp N/A AE86 - Progress Report!
11-30-2006, 05:55 PM
Newera Import's 200 bhp N/A AE86 - Progress Report!
I'd made a sensible choice and sold my mint 2002 S2000 with the intention of using most of the money to pay off some of my mortgage and buying a clean, but low priced car to get into drifting with..
Being my 4th Kouki Corolla Levin AE86 (Had 3 in UK over the years before moving away in 199

this one started out as a mildly tuned example on carbs... Nice & clean, it was meant to be used just as an entry level drift car...
Couldn't resist tinkering with it...and so that was the beginning of a slippery slope!
It's taken 2 years and more expense than I ever want to tally up, but it's finally there mechanically. A completely reliable 200 bhp N/A AE86 that can be driven to the track, drift with the best cars there and still show some grip cars why the AE86 is special on the touge roads of Japan.
Below are some pics of the build, then the full current technical spec.
Newera Media will be making some video clips of this car in action on Japan's drift tracks... and maybe a few on the road....
Here's how it started out in 2004: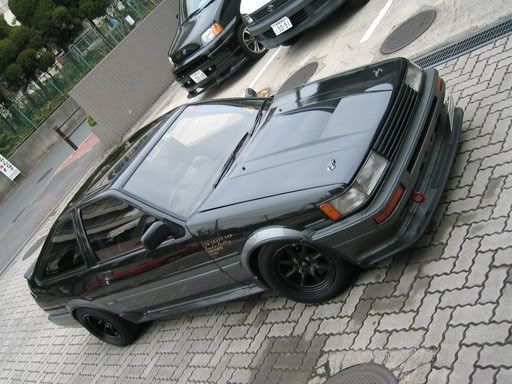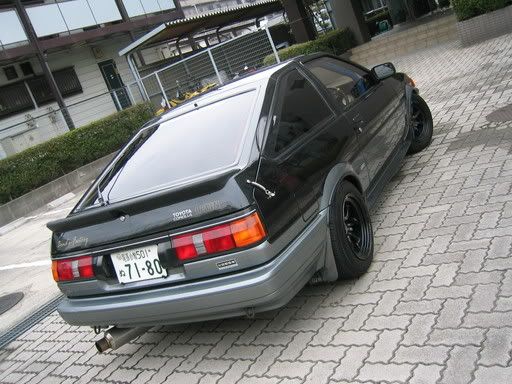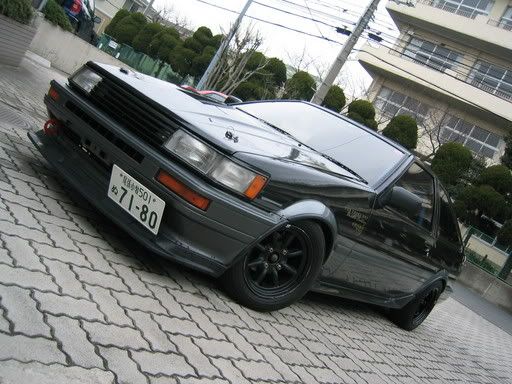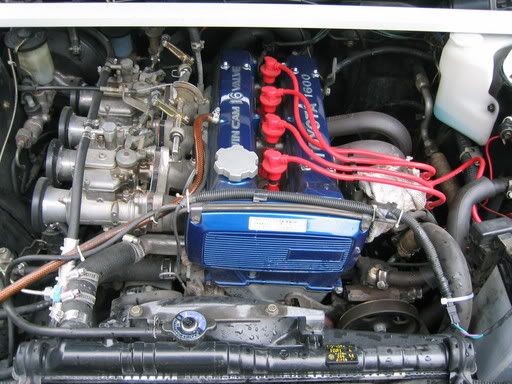 The car needed power, so I fitted a set of Toda Racing Cams, HKS vernier pulleys, oil cooler, strut brace and a few more bolt on bits...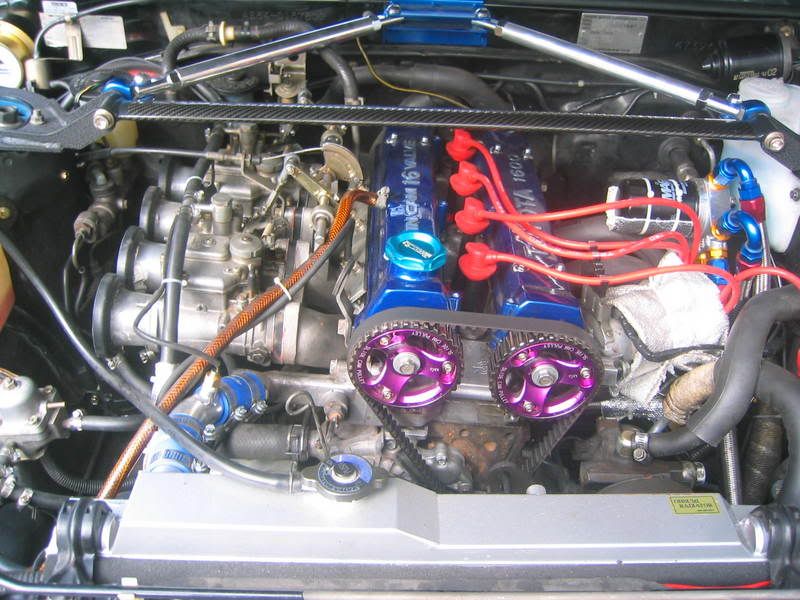 Despite trying all the different jet sizes I could find, I just ouldn't ever get the carbs to work properly (Turned out to be a crap design on the inlet manifold, not the carbs...)
Talked to Techno Pro Spirits and realised to get around 200 bhp and reliability was going to cost plenty... But I couldn't get the thought out of my mind.
Feck it. Asked them to build me their top spec race engine and bang went the money that I'd saved to pay off a chunk of my mortgage!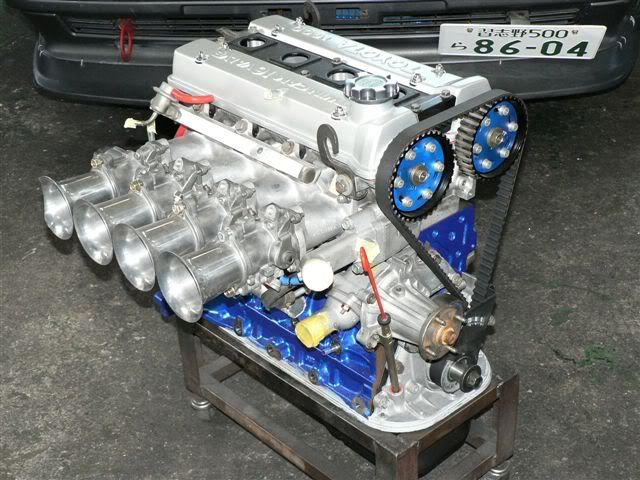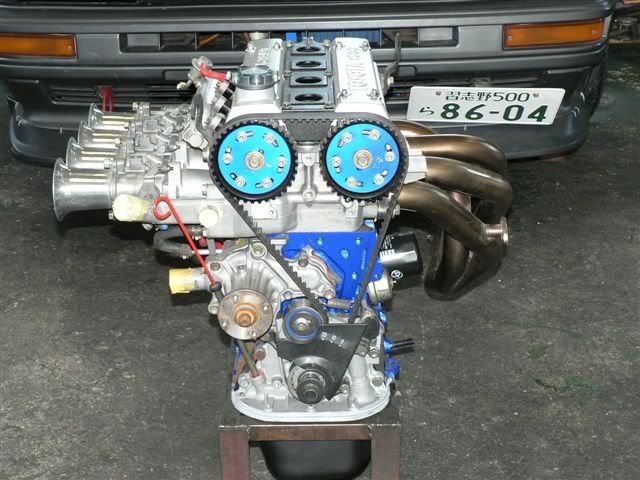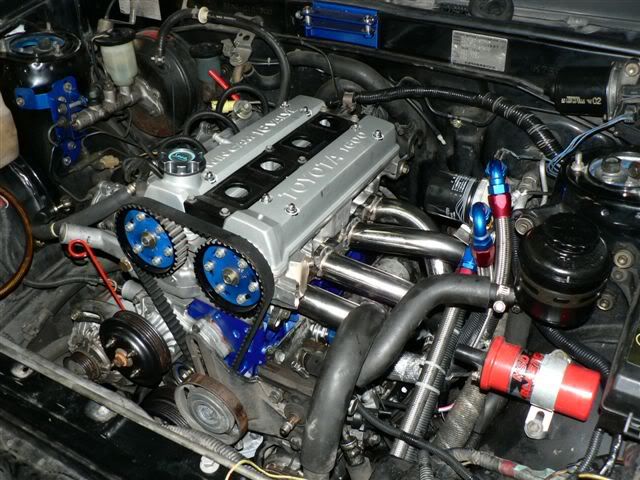 Whilst I waited for the engine, I read up everything I could find on AE86's. Also built myself a custom gauge cluster with integrated shift warning light (programmable with the Defi system). Note even the fuel gauge is illuminated. Speedo is electronic drive - with an Apexi RSM readout.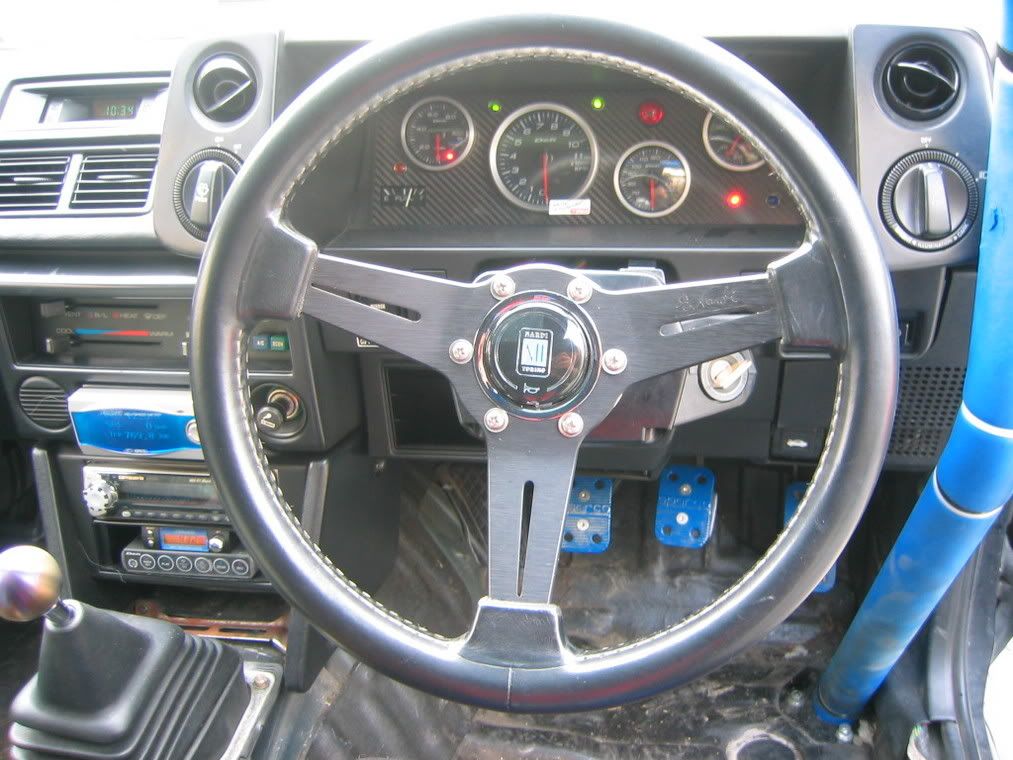 Didn't like the look of the stripped interior. Tatty and ugly, so the carpet and centre console would soon be refitted.....and the rest.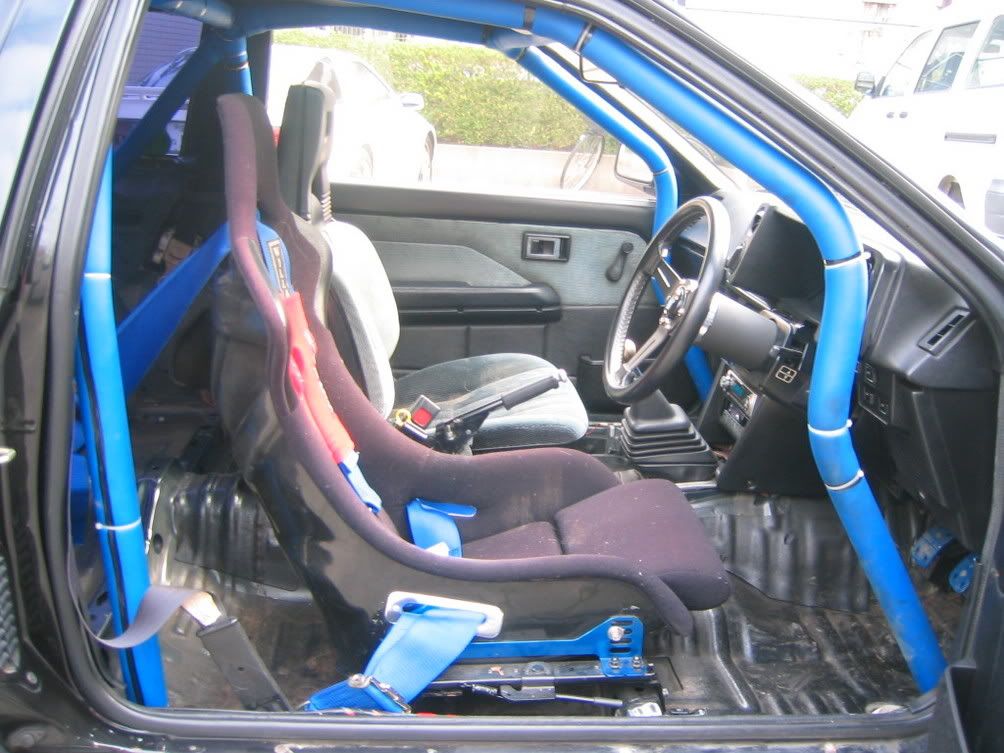 Bodywork got a make over too. Off came the 14" watanabes and on went new 15" ones.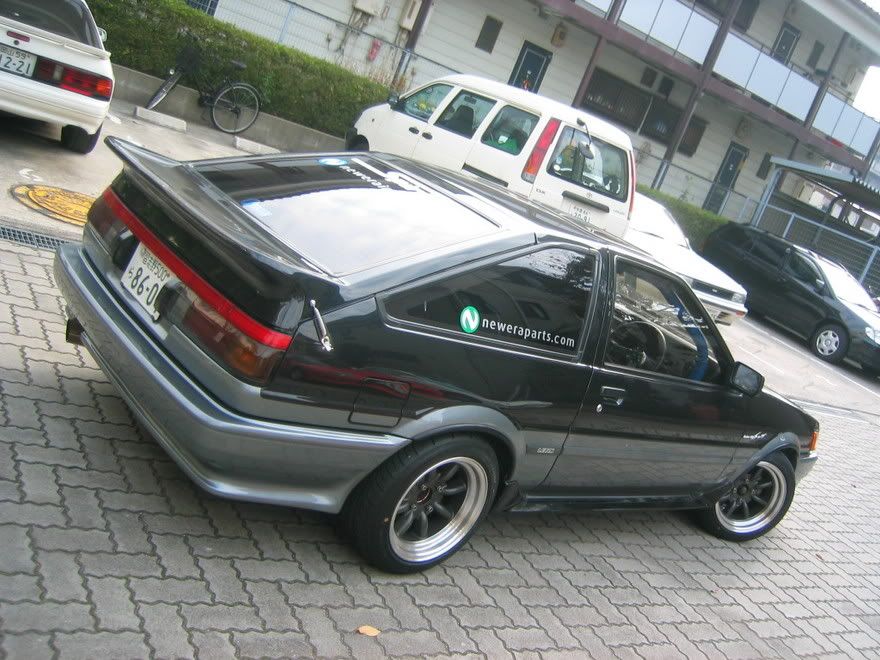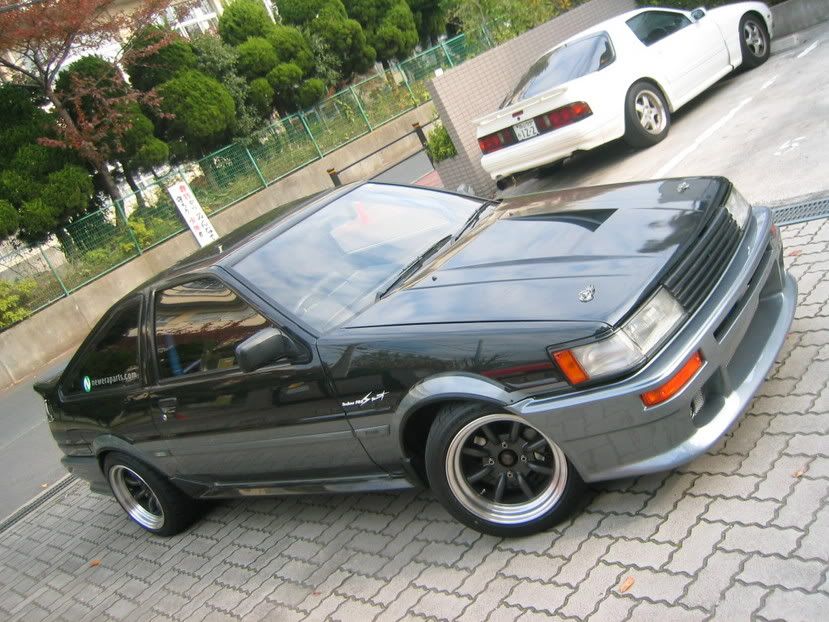 New engine took a month to build...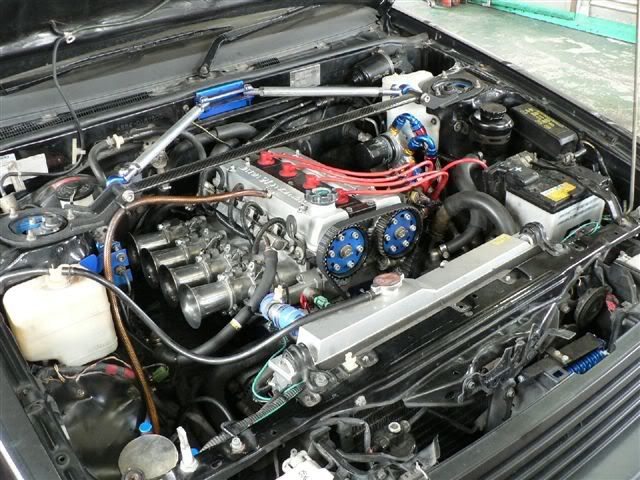 Twin Billion electric fans with 95 Degree thermostat plus an over ride switch for use when drifting: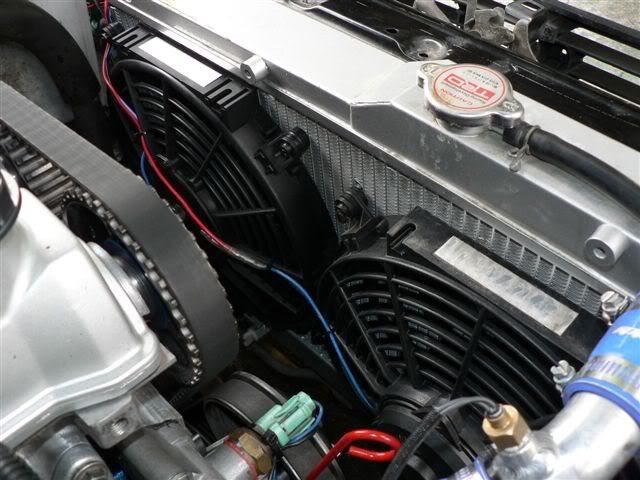 No dyno mapping for me... Asano San of TPS mapped it and worked his magin on his way too and from home...PERFECTION was the only option!
Despite 304 degree 11 mm cams and high compression, car idles at 1,000 rpm and has torque low down a lots of power above 4,000 rpm - all the way to 9,000.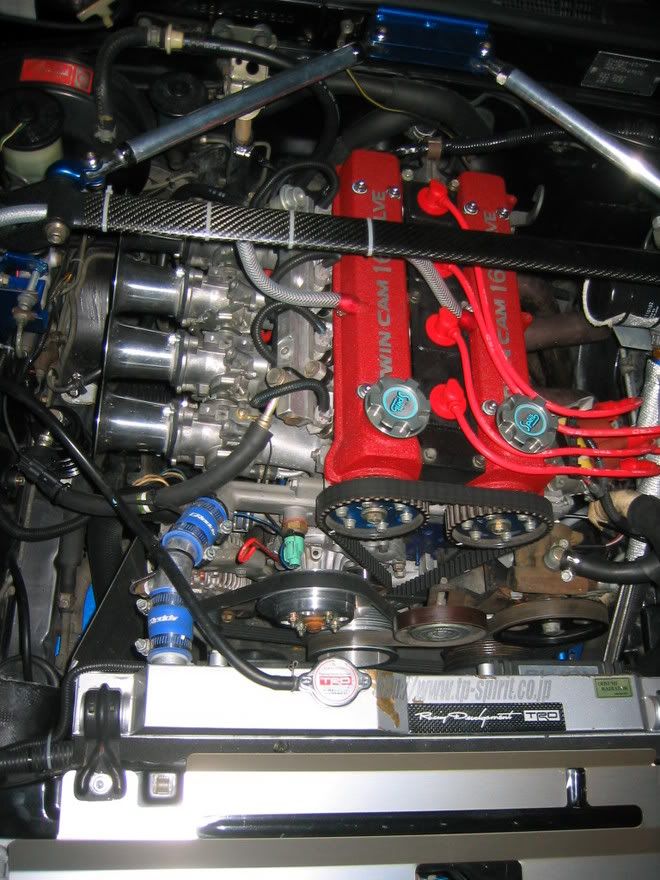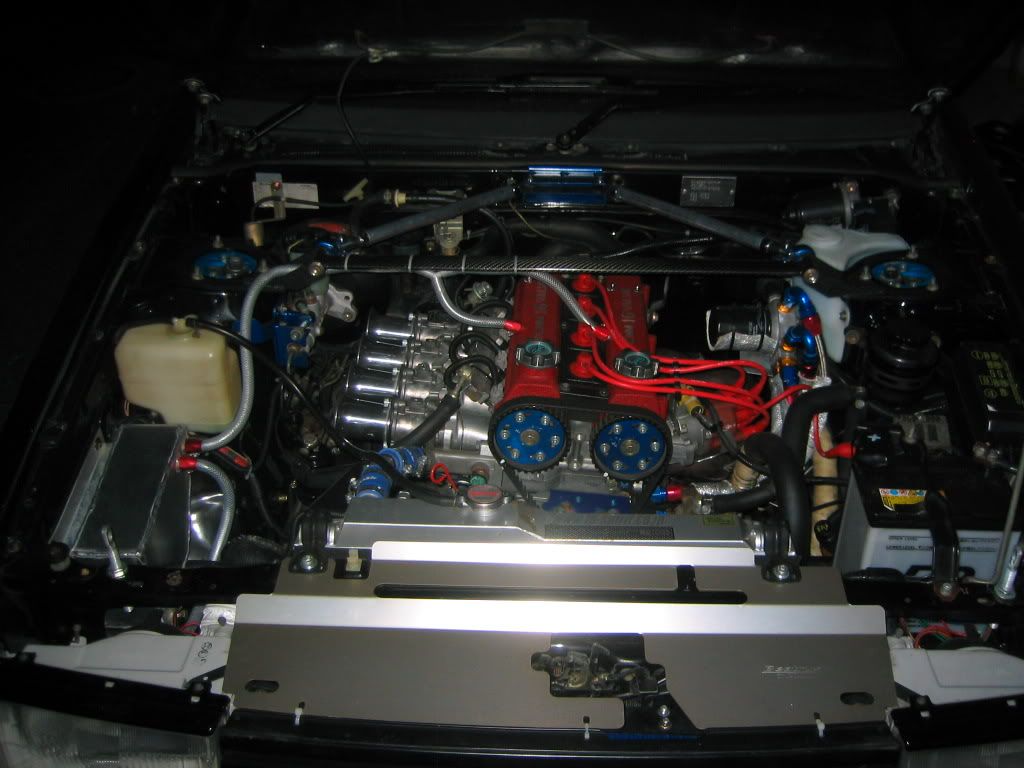 Interior beginning to take shape..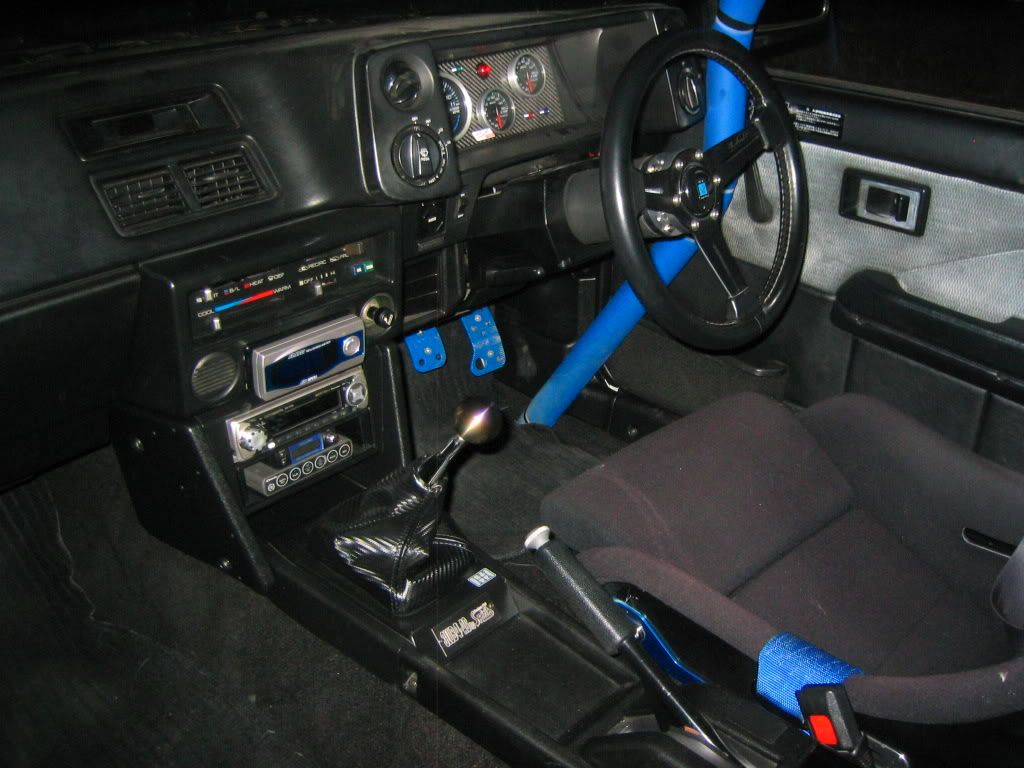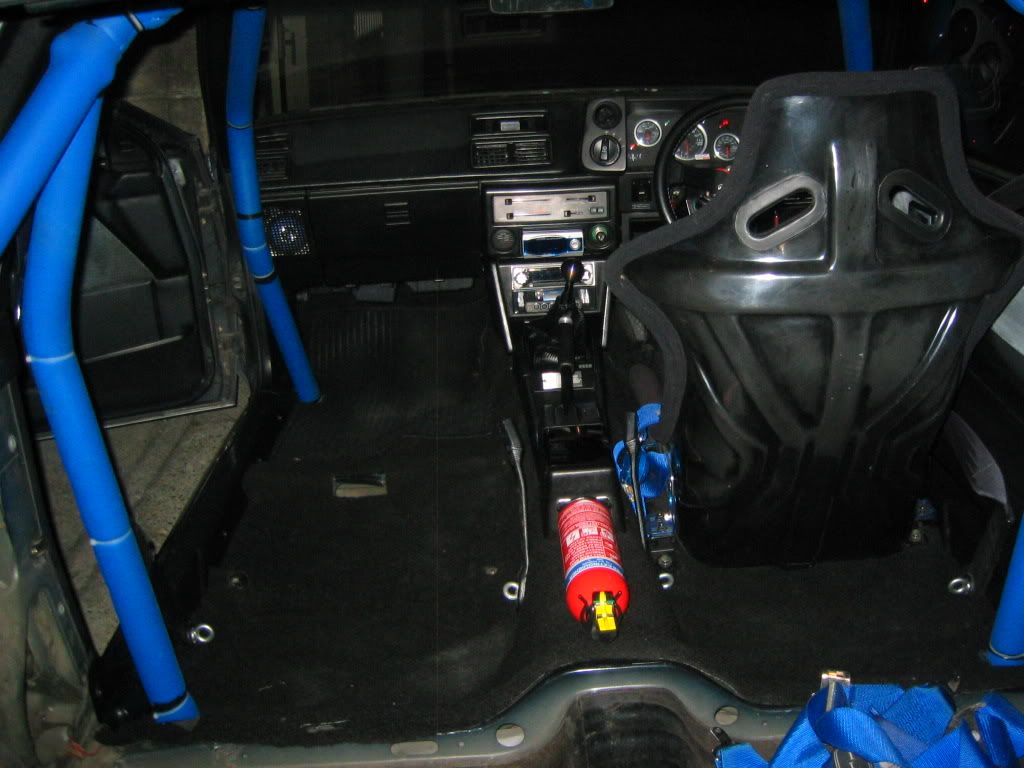 Working outside late nights... Lucky to have an understanding wife!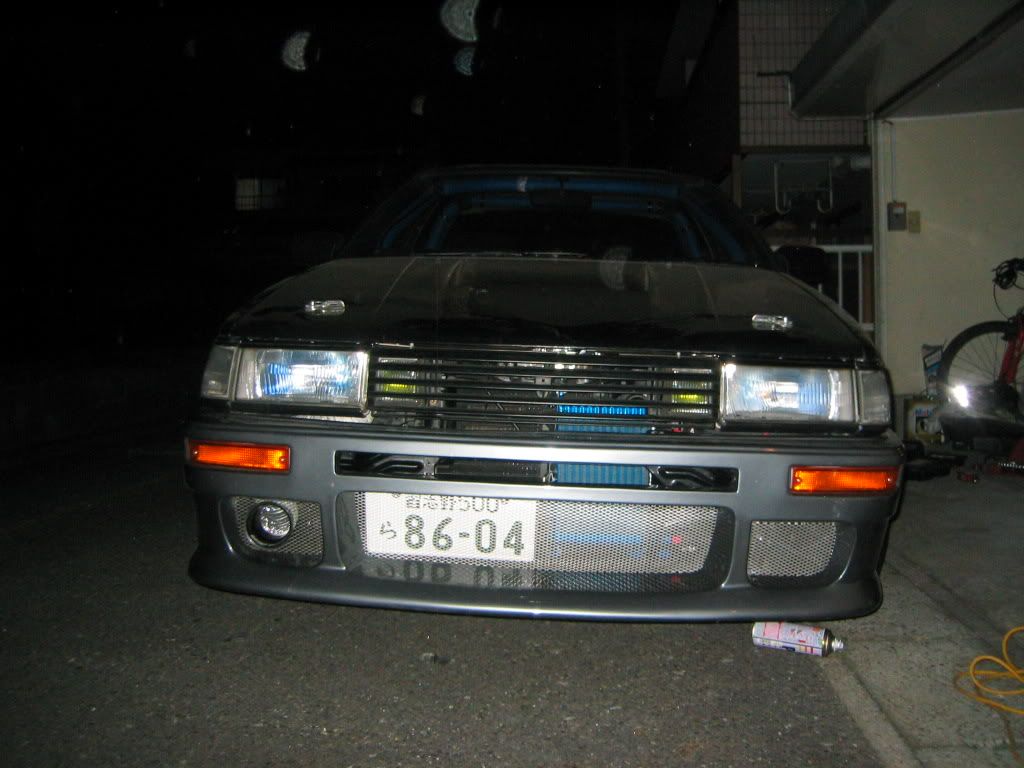 At 90 km/h - the no. plate goes horizontal, but returns to normal at lower speeds. All for maximum air flow... and oh, the speed cameras!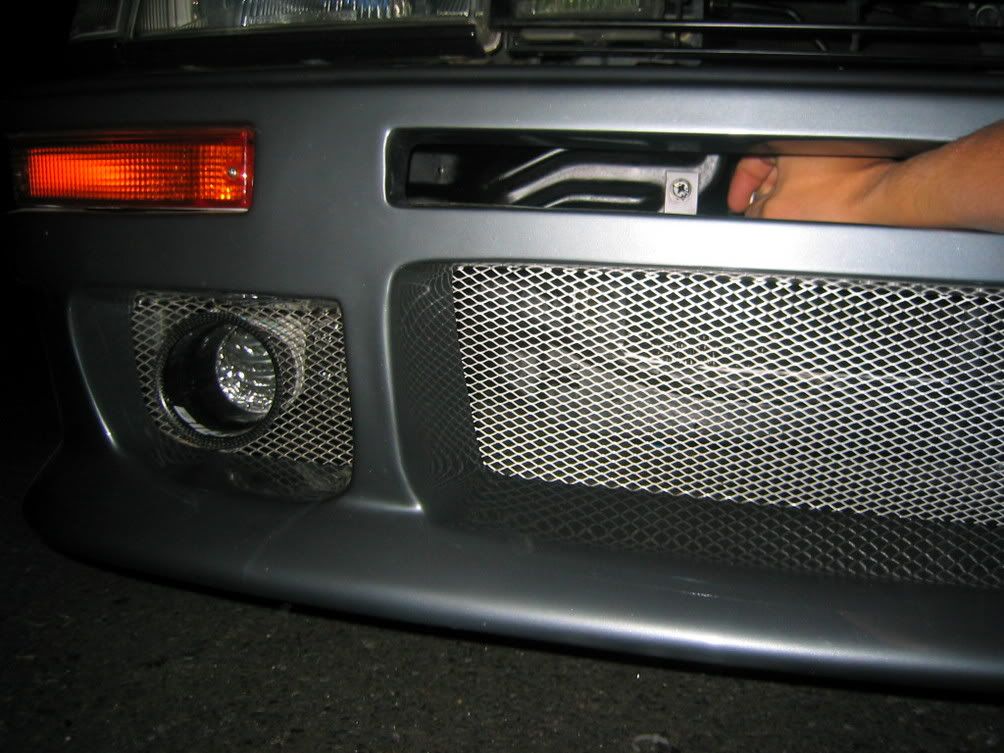 Pics shot by FLY for Max Power (UK).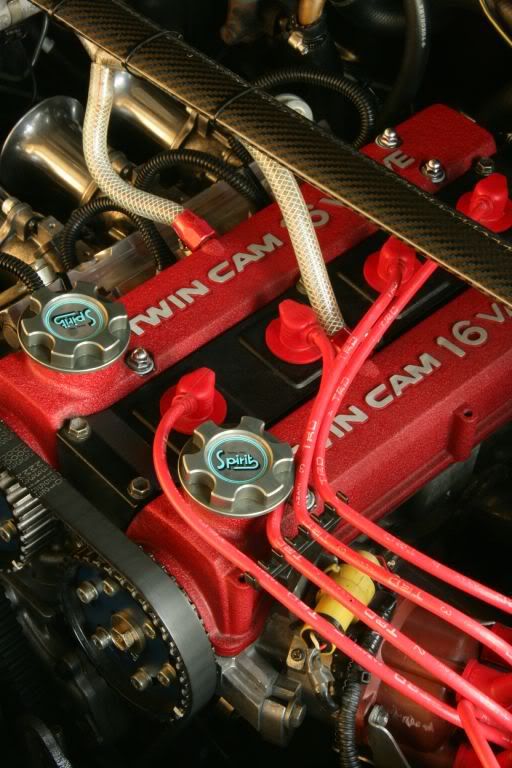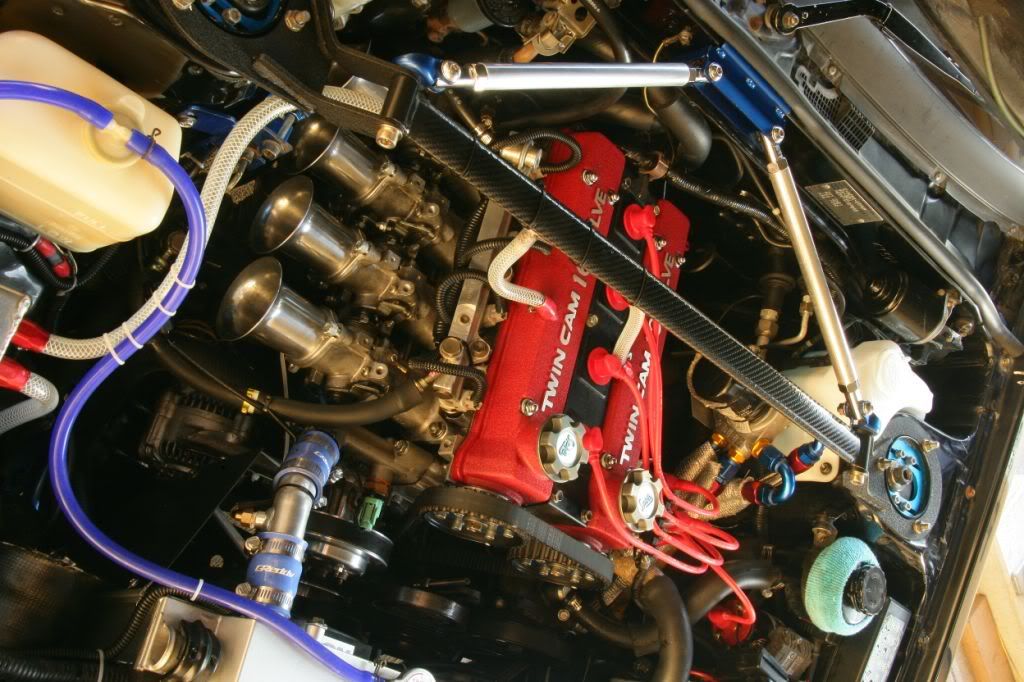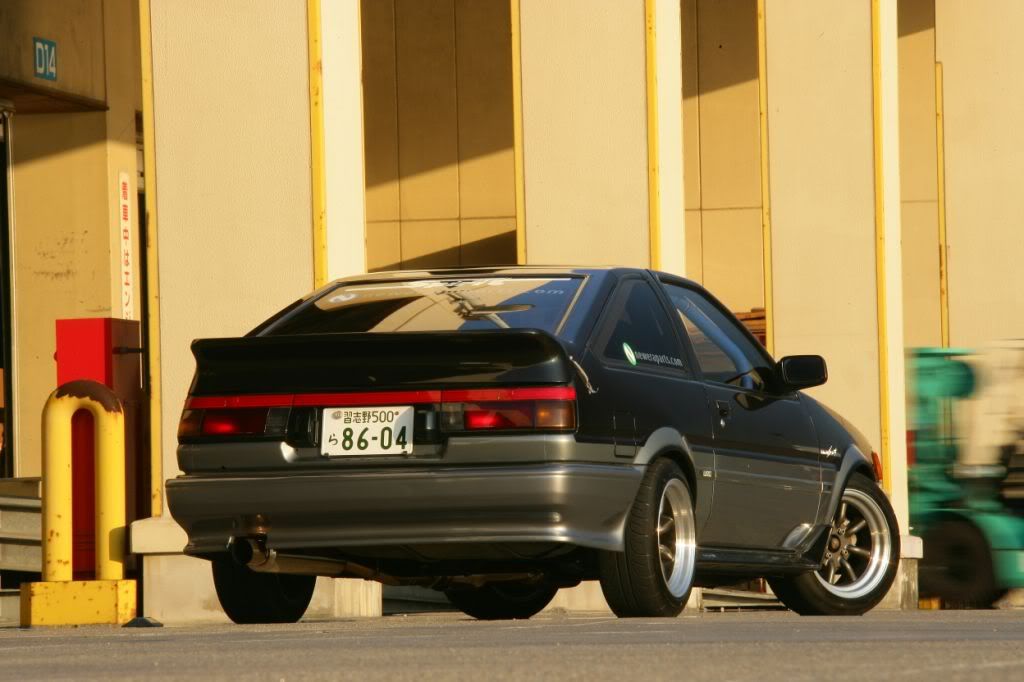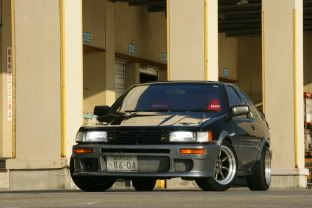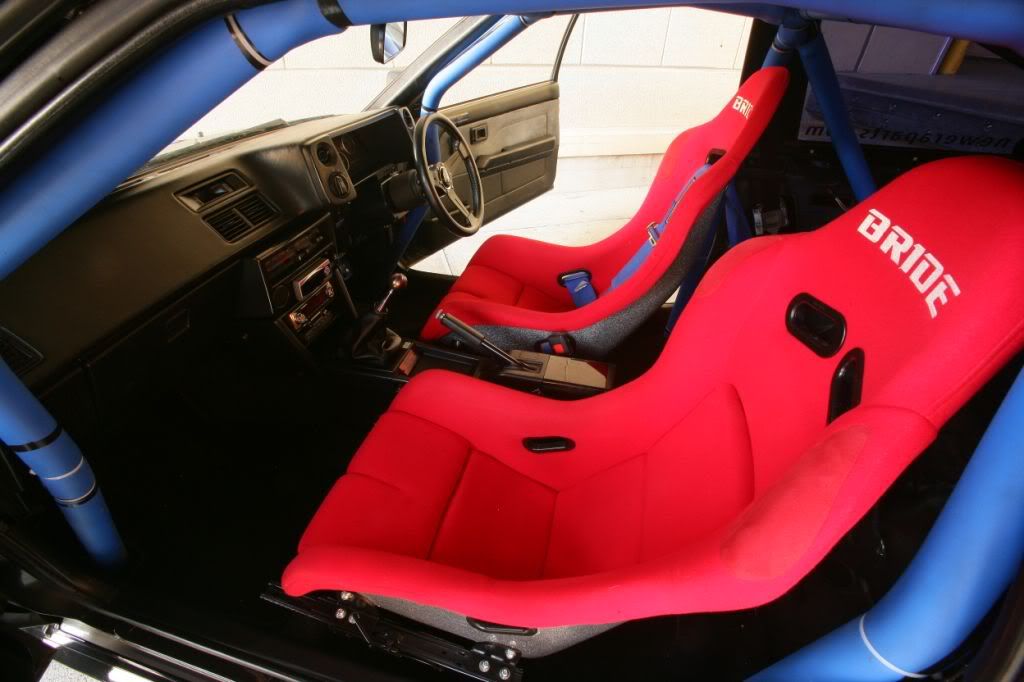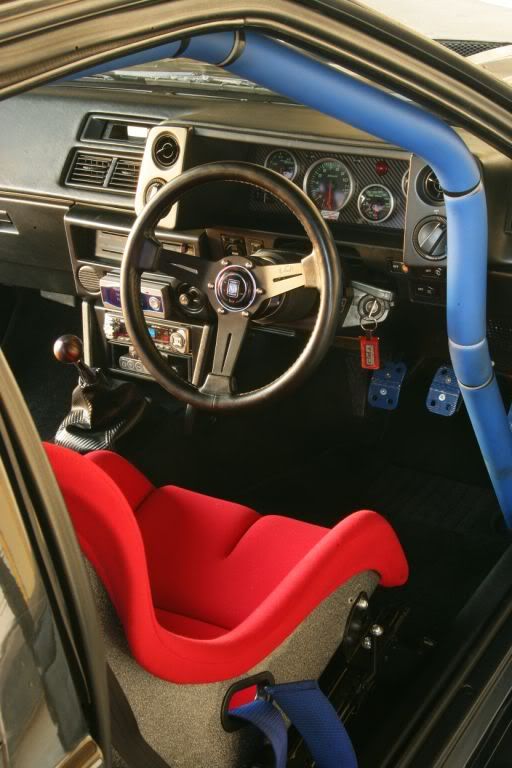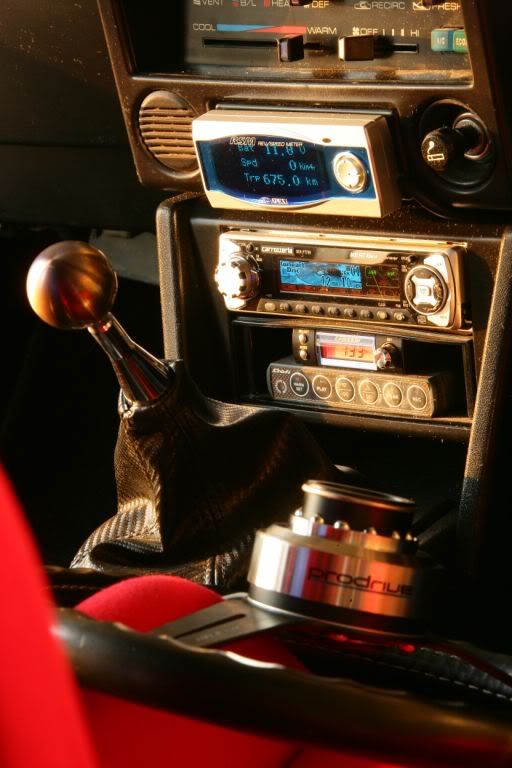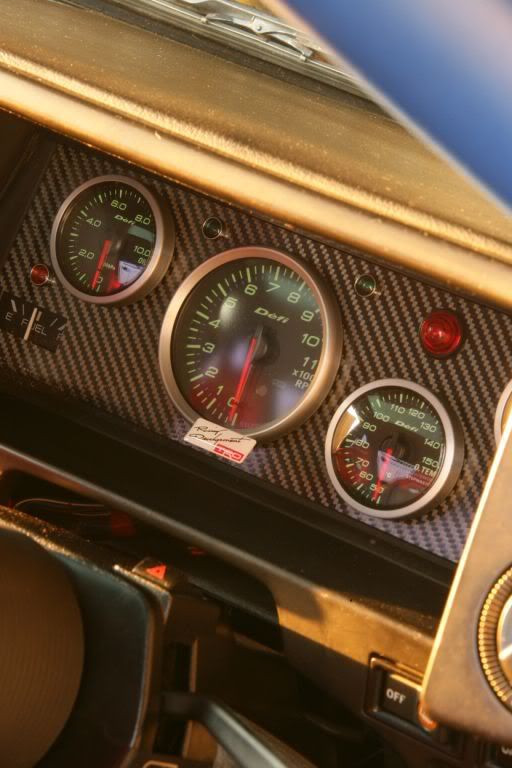 Pics shot by Dino Dalle Carbonare for 5 other magazines: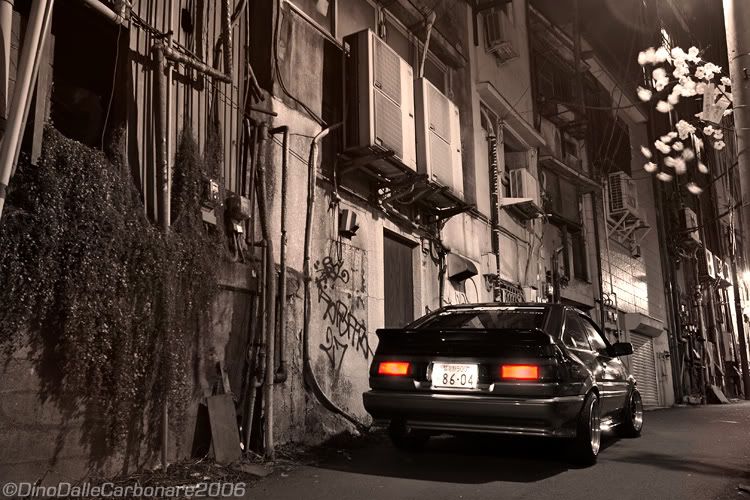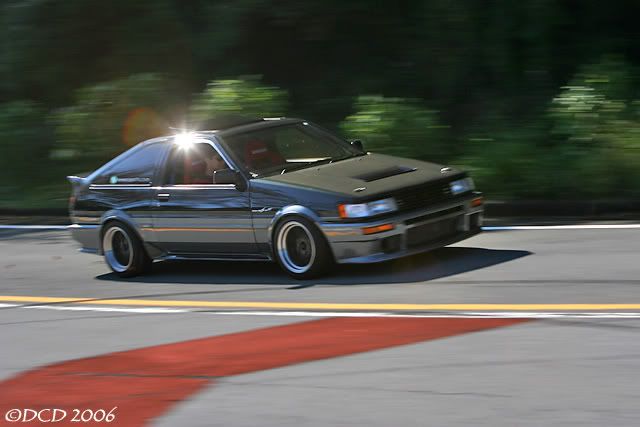 My first drift track day in Japan - April 2006 (Car performed faultlessly and has never broken down - yet).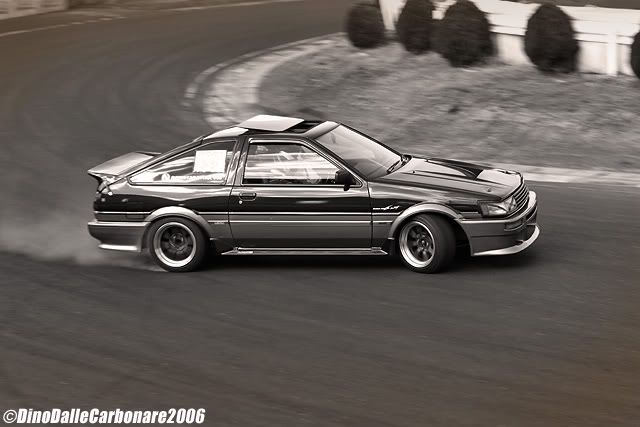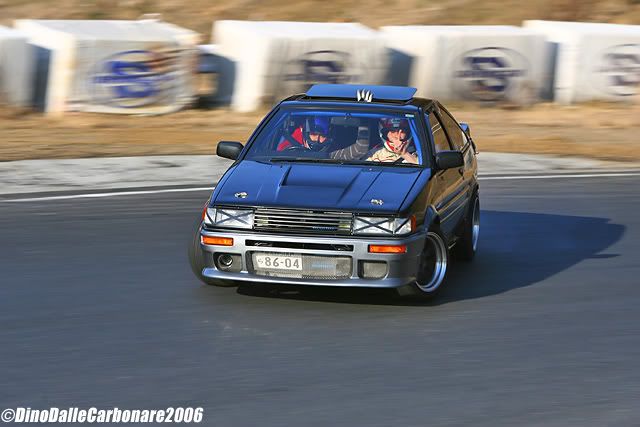 Exhaust manifold from TPS cracked from drifting, so I got a full race N2 item made specially by KMS. A work of art.
By this stage I'd long stopped counting how much money this car was costing. No way will I ever get it back, but I won't ever sell.
Did my mortgage get reduced? Nope... Still the same.
Nikko Circuit, 3rd drift track day I'd attended...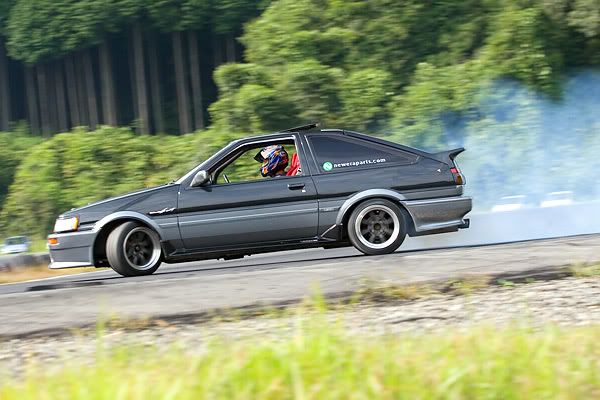 Wheel is well off the ground, car's at 90 degrees to the corner. Wheels are partly behind the summit of the banking.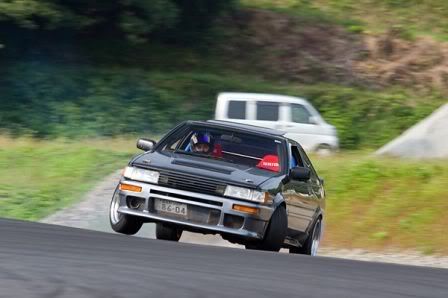 Wet circuit...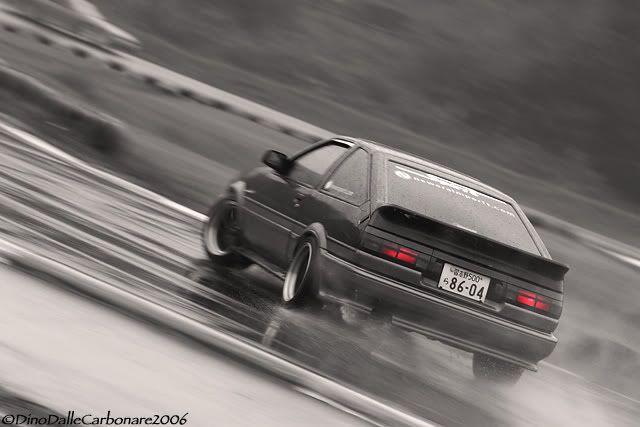 Here's an old clip shot on my 3rd drift event.... I've improved a bit more, since and can now enter the corner after the straight in 3rd and carry a lot of angle all the way through.
http://videos.streetfire.net/video/16ab1...f8aa6f.htm
PROPER VIDEO CLIPS COMING SOON!!!
Full technical specification:
Engine:
Base engine – Late model AE92's 4A-GE engine race strengthened / internally welded.
Cylinder head and piston surfaces gas flowed. Inlet valves 3 angle cut, Exhaust 2 angle cut. Head skimmed. N2 Racing TRD Valve Springs, Toyota Yaris 1 piece bucket shims, Tomei Power Procams of 304° Duration with 11.0m m lift. Valve timing: IN ATDC102°, EX BTDC104°. TRD Head Gasket 0.8mm, 82mm diameter Techno Pro Spirits racing pistons, AE101 conrods machined, lightened and balanced with oil hole processing, AE111 crankshaft with journal surface mirror polished, TRD bearings, (0.054 mm of connecting rod bearing clearances &(0.060 mm of crankshaft bearing clearance). Machined AE92 oil pump with 3mm shim to enhance hydraulic pressure, Techno Pro Spirits uprated and (10mm) lowered engine and gearbox mounts, AE101 throttle bodies with 70mm stainless steel TPS bells (No. 4 is cut to clear the brake servo), 327cc Denso injectors, SW20 GT-S fuel pump, Freedom ECU. Compression Ratio 11.5:1. Power: 197 bhp @ 8,600 rpm. Rev limit set at 9,250 rpm. Twin left side Cam covers refinished in Cackle paint, Jubiride lightweight alloy water pump pulley, Nology comp. spec. ignition leads, Kimizu Motors N2 Racing custom equal length 4 into 1 stainless manifold with spring secured joints, Toda Power silenced stainless 60mm catalyst replacement pipe, Toda Power 60mm bore 2 silencer stainless racing exhaust. Grex/Trust 13 row oil cooler – complete with custom carbon fibre shrouding & remote oil filter housing. Greddy alloy top hose, 3 x normal capacity Oshumi racing radiator, 1.3 Bar TRD radiator cap, Twin 12" Billion electric fans – with 90 degree thermo switch and override switch for drifting. Laile alloy radiator shroud. Custom built large capacity oil catch tank with 1 breather from each cam cover. Techno Pro Spirits Oil caps. Oil: 10W60 Castrol Racing Fully synthetic. All engine work, installation and mapping completed to perfection by Asano San of Techno Pro Spirits, Japan!
Transmission:
TRD racing close ratio gearbox built by TPS, Late model rear axle (Thicker driveshafts and larger bearings), TRD 2 way differential specially shimmed to lock earlier, 4.778:1 final drive, Racing Gear Copper clutch plate, TRD pressure plate, Toda Racing 3.7kg flywheel. Oberon fully synthetic racing 75W90 transmission oil and 140W differential oil.
Suspension:
TRD Coilovers at the front with Cusco adjustable castor plates, TRD adjustable rear shock absorbers and uprated suspension springs, 20mm alloy upper spacers (Jubiride) TRD competition bushes, Adjustable lateral rod, Cusco Vacanza 4 point rear anti roll bar, Cusco pillow ball uprated tension rods, Cusco tension rod connecting bar, for improved steering response, short steering knuckles for increased lock, Cusco Type OS rear strut brace with OS-T strengthening bars, Nobby Booth Carbon & alloy 4 point strut brace, strengthening shakit plates for front suspension turrets.
Brakes:
FC3S RX-7 4 piston front calipers and discs with Endless CC-X performance pads front and Project Mu drift spec. pads for rear. Braided hoses, Cusco brake master cylinder brace, New hand-brake cables. DOT 4 brake fluid.
Wheels & Tyres:
Original RS Watanabe 15 x 8.5J with Zero offset combined with bolt on 15mm spacers front & rear. Bridgestone Potenza RE-01R 195/50/R15 tyres. Stainless steel Watanabe wheel nuts.
Exterior:
Original Paintwork. Crystal Body Yokohama FRP rear hatch with rear wiper removed, Jubiride rear bumper, Budou Nouki front bumper with Billion carbon cold air duct, J-Blood Vented Carbon Bonnet, Trueno late model rear lights, standard skirts and arch trims with carbon fibre stone chip shields. Privacy glass in the rear. Front number plate is mounted on a sprung hinge shrouded in Carbon fibre – Retracts flat (& upside down) at over 40 mph. Driving lights mounted behind the high flow grille. HID 5700 headlight conversion for high & low beam.
Interior:
Defi instrument panel housed inside original binnacle displaying Revs (With adjustable shift light), Water Temp, Oil Temp, Oil pressure complete with LED's for warning lights and original fuel gauge and Defi link Controller. Apexi Rev Speed Meter with Ultra mechanical - electronic speedo output conversion kit, Apexi G Sensor for measuring cornering G forces and engine power output with the Apexi RSM. Original Air Conditioning retained. Webasto electric glass sunroof, Bride Exas III bucket seats with Bride seat rails, , Takata FIA Approved racing harnesses, Custom made floor mats, Cusco Safety 21 8 point roll cage pro-trimmed in Cusco black foam, polished Cusco alloy door bars and diagonal rear bar making this a 14 point cage, Carbon leather gearshift gaiter, Nardi Classic steering wheel with quick-release Rapfix II Prodrive boss, ARC titanium gear-knob, Cusco racing pedal covers, J-Blood carbon sill trims, Pioneer hifi with 300W speakers and removable Alpine subwoofer box, Video camera mount on rear cross bar. Greddy multi Switch Controller, Fire extinguisher.

All parts used in the build sourced by NeweraParts - in Japan.
---
VISIT OUR NEW WEBSITES!!!!


A Tuner's Paradise
Automotive Art On Film
Dedication To Automotive Perfection



Japan Office Tel - (Calls charged at UK National Rate): 0207-193-3979.


Mobile (Japan): +81- (0) 90-4133-3825 Fax (Japan): +81-(0) 47-307-4678
User(s) browsing this thread: 1 Guest(s)