KyoKugen Racing Lug Nut Special!! ~ 2 weeks only~
04-18-2011, 10:22 PM
KyoKugen Racing Lug Nut Special!! ~ 2 weeks only~
Check it out guys one of the greatest lug nuts you can get!
These are very lightweight lug nuts and are forged for durability.
the lug nuts are open ended as well and they are short!
Perfect for anyone who is trying to get precise with the
weight on their car or just to improve looks!
This special is only for 2 weeks so get it while you can guys!!!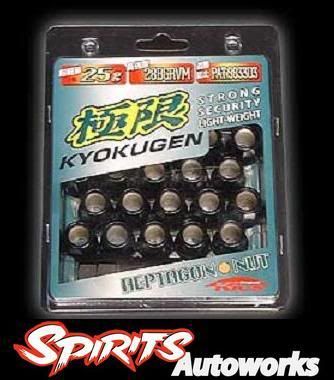 The price will $50 shipped Flat rate (Lower 48 states only)
The price will $70 shipped Flat rate (Europe)
sorry no local pick-up
please call or email if you have any questions, concerns, or comments.
Thank you and have a great day!
---
Contact information:
Leon, Matthew
Spirits autoworks
1938 Tyler Ave, E168
S. El Monte, CA 91733
USA
Phone number: +16263290303
Email: [email protected], [email protected], [email protected]
AIM: spiritsracing, spiritsales01, spiritssales02
User(s) browsing this thread: 1 Guest(s)