05-14-2006, 10:30 PM
cookwibble
Junior Member


Posts: 33
Joined: Oct 2005
Reputation: 0
KE70
hi, came onto this site ages ago when i was looking at an AE86, well my finances are not that great so im now looking at a KE70. Was wondering what peoples experiences of them had been like? also im going to use it for drifting....any recommendations?
05-14-2006, 11:13 PM
robokill
Posting Freak


Posts: 2,827
Joined: Sep 2004
Reputation: 0
KE70
ask te71corolla.

The base is the same as the hachi. But you need all hachi parts to make it the same and also to be able to use all the hachi parts.

Suspension etc
---
Cars:
"99 Lexus IS200
"86 AE86 Kouki Panda Levin GT-Apex (restore project)
"84 AE86 Zenki Blue Levin (project racer)
Motorcycles:
"02 Yamaha R1
"02 Honda Hornet S
"08 BMW R1200GS
05-15-2006, 10:45 PM
banpei
Super Moderator


Posts: 11,073
Joined: Aug 2004
Reputation: 7
KE70
From what I understood from TE71Corolla the TE71 has a slightly larger basis than the KE70.

---
1982 - TA60 Carina 4dr sedan - fun cruiser
1983 - AE86 Sprinter Trueno - import project
2013 - Honda Civic sport - daily driver
2004 - AEU86 dot ORG - daily domain

Support our forum, buy from the AEU86 shop:


05-16-2006, 07:49 AM
Ivan141
Super Moderator


Posts: 6,209
Joined: Sep 2004
Reputation: 0
KE70
The KE and TE have the same chassis, which is also identical to the ae86 chassis (just the basic structure offcourse...the unibody structures are different).
The difference between KE and TE would be the engine, just like with all the other toyota's the first letter is for the engine family.. which should be a 2T-(G/B) for the TE models and some K engine for the KE models.

BTW cookwibble, where are you from? The TE71 is a LOT more rare than AE86's in our parts, and for a good one probably more expensive too.

My recommendation: Buying and modding a KE70/TE71 is probably not in your budget either. Expect to put in a LOT of work, and a lot of money into that car to turn it into a drifter. Same goes for ae86's more or less. You can slide it, but it WILL break after a bit of abuse, which is when you will discover what it costs to fix an old toyota. Proper driftcars usually have a lot of money spent on stronger bits to keep them going..

If your really on a budget, but still want to drift, buy something expendable. For instance I also own a volvo 360, which is cheap and dirty, but it will go sideways with minor mods. If I drive it into a tree I can replace it without shedding a tear. I've got an article about guys drifting volvo 340's (with the smaller engines and probably variomatic drive). Another option (around here anyway) is an old BMW.. also perfect, cheap, rwd and powerfull.
---
FABRICA MI DIEM, PVNC!
05-16-2006, 11:56 AM
cookwibble
Junior Member


Posts: 33
Joined: Oct 2005
Reputation: 0
KE70
im not worried about the work or expense really. I have been using a nissan s14 for about 2 years now and i just want a change, something old and light. the money from the sale of the s14 is going to be ploughed into the KE. Im thinking (as it seems the way to go) ae86 running gear and im currently looking at a 4age from a mk1 mr2. just a quick question though, ae86 suspension components: do they fit straight on? ie:shocks etc. also, what diff does the ke run as standard?
05-16-2006, 01:39 PM
Ivan141
Super Moderator


Posts: 6,209
Joined: Sep 2004
Reputation: 0
KE70
I believe all the ae86 suspension gear is bolt-on. Check out TE71corolla's project thread to get a good idea of the work involved. I dont know what axle came on these models, but it is from the same family as the ae86 axle, maybe with open diff+drumbrakes. Easiest thing to do would be to slap an ae86 axle on there. I dont know how much work it would be to fit a 4age in one..you would probably need to change the entire fuel system if you want to go with EFI, and figure out if the ae86 crossmember will bolt on.

All things considered I expect it wont end up cheaper than a modded 86, but you will have something special on your hands.
---
FABRICA MI DIEM, PVNC!
05-16-2006, 07:33 PM
cookwibble
Junior Member


Posts: 33
Joined: Oct 2005
Reputation: 0
KE70
thanks for the info.

the main financial issue is the purchase price, after that i can deal with bits going out...
07-08-2006, 11:02 AM
05m0515
Member


Posts: 81
Joined: Oct 2004
Reputation: 0
KE70
Check out my build up. It's a full AE86 conversion itno a TE72 which is the same as a KE70 or TE71

http://www.toyota3tc.com/forum/viewtopic.php?t=3192
---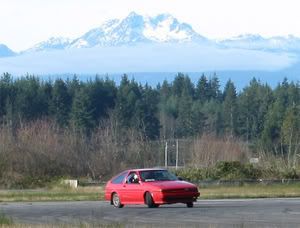 http://www.hachiroku.net
07-08-2006, 04:35 PM
Doktor
Member


Posts: 80
Joined: Oct 2005
Reputation: 0
KE70
I biuld AE70(Ke70 with 4a engine swap). You can use suspension from Ae86. You can use all parts from AE. Chek my posts.Eastern europe. I have lighter parts for Ae86 and KE70 like hood, trunk ,fenders, bumpers.
---
KAE70--> http://www.youtube.com/watch?v=VJasjMGVd7k

Ae86 daily drift car rebuild
User(s) browsing this thread: 1 Guest(s)