"weirdos obsessed...." :) Thank you
07-24-2007, 02:04 AM
oldeskewltoy
4AG Super Genius ;)


Posts: 1,779
Joined: Jan 2007
Reputation: 1
"weirdos obsessed...." :) Thank you
---
Dan -

You can |

.... OR you can ask for help!!!

OST Porting service - http://hachiroku.net/forums/showthread.php?t=19991
07-24-2007, 02:29 AM
IBMFD3S
Member


Posts: 163
Joined: Aug 2005
Reputation: 0
"weirdos obsessed...." :) Thank you
if i must choose: the Lambo
after selling the Lambo ... buying 2 ae86's. one with a f22c and the other a 20b in it.

---
53.6 Tsukuba: http://www.youtube.com/watch?v=Kd-AnG3LYUg
try this one: http://www.youtube.com/watch?v=t1IiUAtoNBk
07-24-2007, 09:19 AM
banpei
Super Moderator


Posts: 11,077
Joined: Aug 2004
Reputation: 7
"weirdos obsessed...." :) Thank you
Great picture!

---
1982 - TA60 Carina 4dr sedan - fun cruiser
1983 - AE86 Sprinter Trueno - import project
2013 - Honda Civic sport - daily driver
2004 - AEU86 dot ORG - daily domain

Support our forum, buy from the AEU86 shop:


07-24-2007, 09:13 PM
NickBW
Member


Posts: 71
Joined: Jul 2005
Reputation: 0
"weirdos obsessed...." :) Thank you
I picked up this mag just to see why they had a picture of a lambo next to the rolla.. of course they didnt bring it up.
On a side note. I'm finding SCC less and less unbearable lately. It seems as if with in this year someone in their shop is starting to read tech books.. or at the very least they are now taking advice from someone who knows their shit and are throwing in a few phrases to sound smart.. Either way I'm glad to see they are actually trying to figure the car rather then just throw 'the popular jdm coilover combo'. I do however wish that they would have given us the measurements they took to get the motion ratio.... really disappointed in them for that.. but oh well it
is
just sportcompact car.. not like I had high expectations.
Also would have been handy for the vast majority of their readers if they went into further detail as to what they were talking about.
---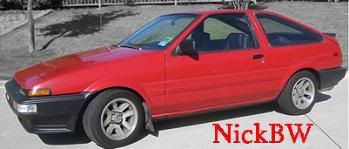 User(s) browsing this thread: 1 Guest(s)