11-22-2005, 01:44 AM
Mr Doricar
Member


Posts: 101
Joined: Nov 2005
Reputation: 0
Rally ae86
YEY! My two favourite cars in one thread! E30 M3 and AE86! HEAVEN!

11-22-2005, 08:33 PM
banpei
Super Moderator


Posts: 11,376
Joined: Aug 2004
Reputation: 7
Rally ae86
Very nice hachi.

You did work on it? It doesn't run anymore? Or you sold it?

---
1982 - TA60 Carina 4dr sedan - fun cruiser
1983 - AE86 Sprinter Trueno - import project
2013 - Honda Civic sport - daily driver
2004 - AEU86 dot ORG - daily domain

Support our forum, buy from the AEU86 shop:


11-22-2005, 09:15 PM
lasse
Member


Posts: 79
Joined: Feb 2005
Reputation: 0
Rally ae86
The hachi is sold. and the m3 is running on full speed.

we will start making the BIG winter service on the m3. So it will be ready for 2006 rally seson in the danish gr. h7...


Lasse
---
I still play with cars......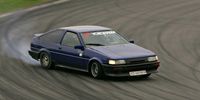 User(s) browsing this thread: 1 Guest(s)