How to add photos to your posts
01-16-2022, 05:18 PM
(This post was last modified: 01-16-2022 05:25 PM by banpei.)
banpei
Super Moderator


Posts: 11,376
Joined: Aug 2004
Reputation: 7

How to add photos to your posts
I've recently got a lot of questions on how to add photos to your posts and/or topics. There are a couple of options to add them. Via Tapatalk you can add images via their app/website, so that would happen seemless. If you get here via a browser (on a computer) you can either embed them from another image source (imgbb, pasteboard, imgur) or upload them here as an attachment to your topic/post.
Embedding
Embedding from somewhere else is relatively easy. Upload the photo somewhere, for instance to pasteboard, and you will get the image link after uploading and copy this link.
If you have another image website, right click on the photo after upload, select the "copy image link" and there is your image link.
Now you can add it to forums using the "insert image" button in the full reply or create topic mode:

or add it by pasting it between an
img
tag:
Code:

[img]https://gcdn.pbrd.co/images/lfwff01lXdTa.jpg?o=1[/img]
Uploading
Uploading photos can only be done in full reply or create topic mode, so this won't work with the "quick reply" underneath every topic. Images are allowed up to 2MB per image, so it could be the case you have to make the images a bit smaller.
It starts with the first step to browse for your file at the bottom of the reply/create topic page:
The next step is to select your photo:
This may look different depending on your operating system.

Then next step is to click on the "Add Attachment" button next to the image name you selected: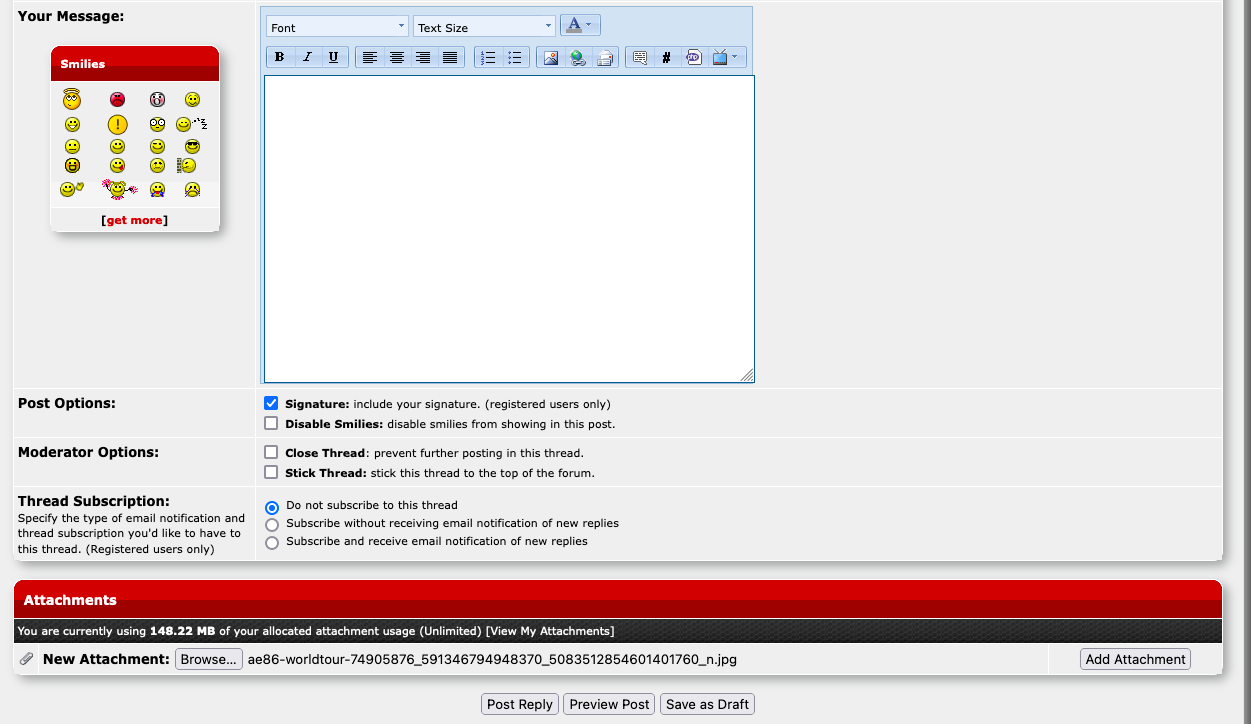 Then once it has been uploaded, you can click on "Insert into Post" to add it to your post.
This will be added to the end of your text, so unfortunately not to the place where you placed your cursor.
Now all you have to do is save your reply or create your topic for profit.

---
1982 - TA60 Carina 4dr sedan - fun cruiser
1983 - AE86 Sprinter Trueno - import project
2013 - Honda Civic sport - daily driver
2004 - AEU86 dot ORG - daily domain

Support our forum, buy from the AEU86 shop:


01-17-2022, 01:48 PM
r.ave
Member


Posts: 179
Joined: Aug 2019
Reputation: 1
How to add photos to your posts
This is a great 'how to', I use Flickr to upload pictures and add them to the forum.

My experience is that Tapatalk (iphone) does not work for when it comes to uploading pictures.
Have updated the app etc, just won't let me upload it, or it says it does but it does't

Uploading to the forum does work, but doesn't it have some limitations when it comes to qty or size?
01-17-2022, 10:31 PM
banpei
Super Moderator


Posts: 11,376
Joined: Aug 2004
Reputation: 7
How to add photos to your posts
Yes the limits were 1MB for jpeg and 500KB for png. I have now upped both to 2MB
---
1982 - TA60 Carina 4dr sedan - fun cruiser
1983 - AE86 Sprinter Trueno - import project
2013 - Honda Civic sport - daily driver
2004 - AEU86 dot ORG - daily domain

Support our forum, buy from the AEU86 shop:


User(s) browsing this thread: 1 Guest(s)