Greater Reading Auto Expo - Maple Grove Pa -April 24 25 2010
02-27-2010, 06:32 AM
TeamKO
Junior Member


Posts: 5
Joined: Sep 2008
Reputation: 0
Greater Reading Auto Expo - Maple Grove Pa -April 24 25 2010
2010 Greater Reading Auto Expo @ Maple Grove Raceway Featuring:
April 24
Drift Camp by Matt Walden of Import Intelligence
Motor Cycle Stunt Show by The Anti-Team
Car show and much more by Team KO
April 25
AutoX by Blue Mountain Region SCCA
We sold out of driver positions last year. We will sell out this year. First 100 that sign up for the car show get a 1 year subscription to Performance Auto and Sounds Magazine. Everyone that attends gets a chance to win a Gated and Water Cooled GT35 R Turbo. One will be given away each day! So sign up today.
http://www.GreaterReadingAutoExpo.com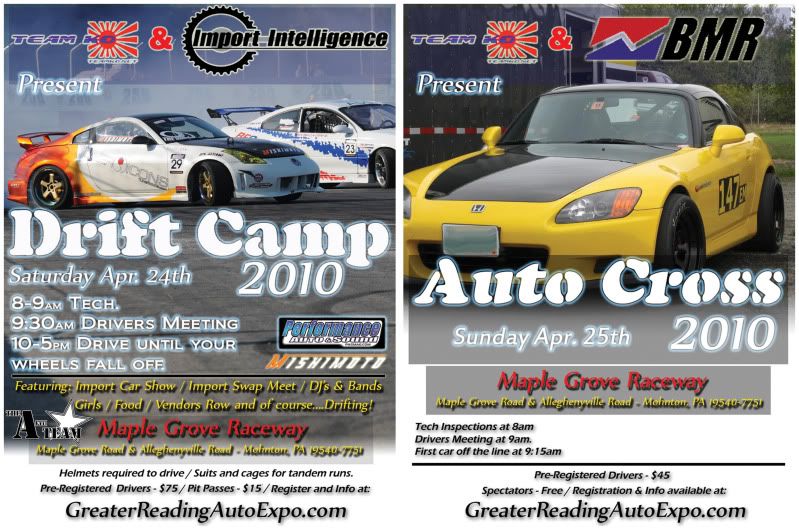 05-07-2010, 05:18 AM
aderolee
Junior Member


Posts: 3
Joined: May 2010
Reputation: 0
Greater Reading Auto Expo - Maple Grove Pa -April 24 25 2010
So when is the other auto expo going to be held, as I am going to buy a new car and wanted to modify the car to match the car in one of the fast and the furious movies.
05-07-2010, 07:23 AM
TeamKO
Junior Member


Posts: 5
Joined: Sep 2008
Reputation: 0
Greater Reading Auto Expo - Maple Grove Pa -April 24 25 2010
tenantively scheduled for April 2011
User(s) browsing this thread: 2 Guest(s)