Banpei's new TA60 family cruiser
05-15-2022, 12:50 PM
(This post was last modified: 05-25-2022 01:41 PM by banpei.)
banpei
Super Moderator


Posts: 11,169
Joined: Aug 2004
Reputation: 7
RE: Banpei's new TA60 family cruiser
Fast forward almost another year. Last year I replaced both dust covers for the brake calipers and the right hand side turned out to be ill fitted. I already had great difficulty to fit the dust cover on the right hand side and it appears it's just one or two millimeter too large. It started to leak and I decided to get an official brake repair kit from Toyota as Toyota doesn't sell the dust cover separately.
My Toyota dealer charged 82 euros for a brake caliper repair kit and told me on the phone in September 2021 it contains a full set for a single caliper, including the dust cover, seal and both boots. That meant I had to pay 164 euros to repair both calipers properly. I obviously declined when the unofficial dust cover (including seal) only costs 8 euros.

So instead I got two sets from Japan via Megazip for 72 euros excluding taxes. Including taxes I paid a little over the 82 euros charged by the Toyota dealer. It got shipped from Japan, but the package ended up to be sent to Miami:
Megazip admitted it was their fault and ordered two new sets and finally after waiting for more than two months they arrived in December: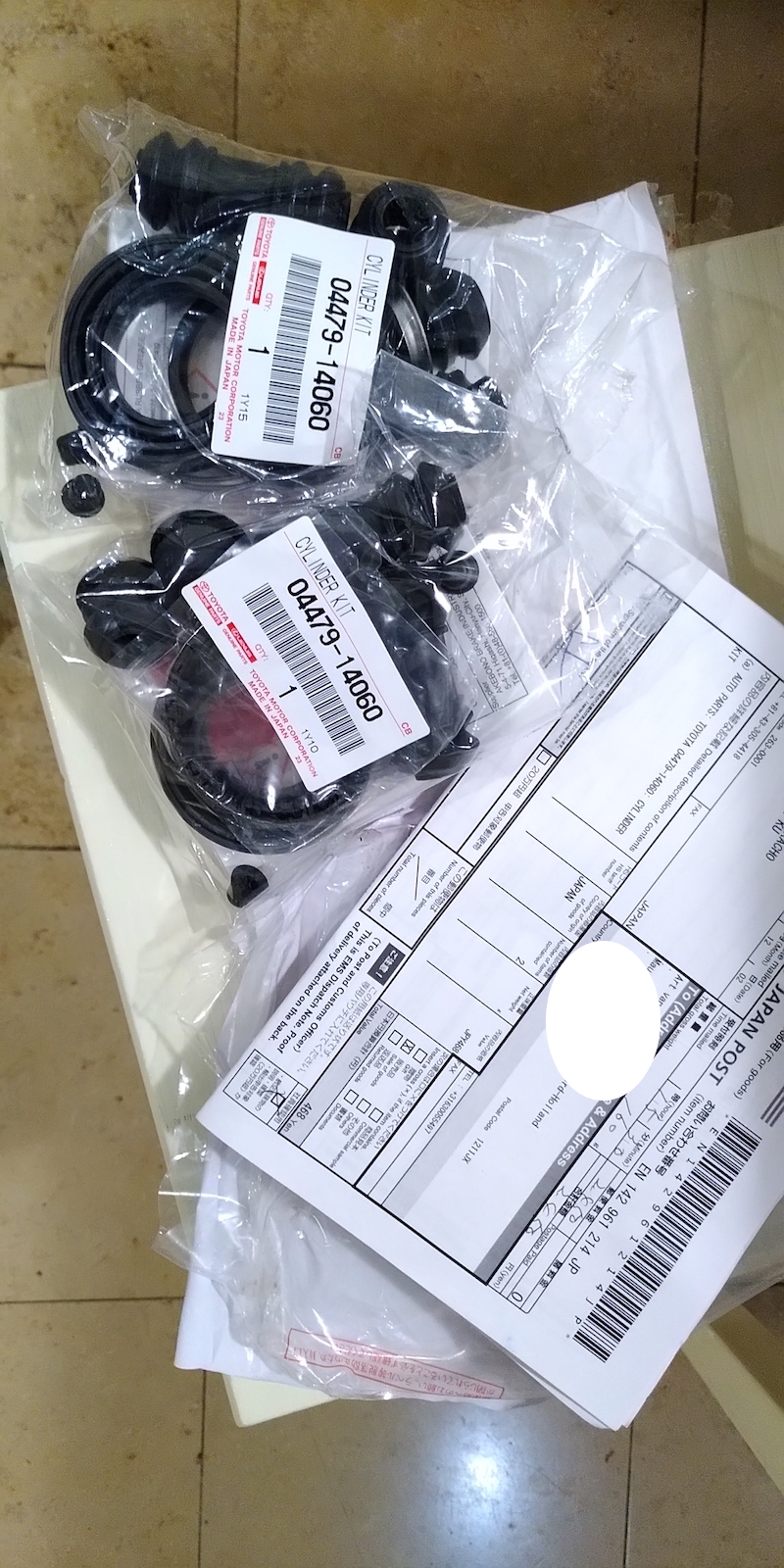 It turned out to be a brake caliper repair kit actually has boots, seals and dust covers for both calipers.

Due to all sorts of reasons I only got the time to replace the leaky one last Friday. Due to time constrains I didn't have the time to replace the boots yet, but I'll do that next time I'll work on the car. At least I have progress now and hopefully will pass MOT this month.
---
1982 - TA60 Carina 4dr sedan - fun cruiser
1983 - AE86 Sprinter Trueno - import project
2013 - Honda Civic sport - daily driver
2004 - AEU86 dot ORG - daily domain

Support our forum, buy from the AEU86 shop:


User(s) browsing this thread: 1 Guest(s)